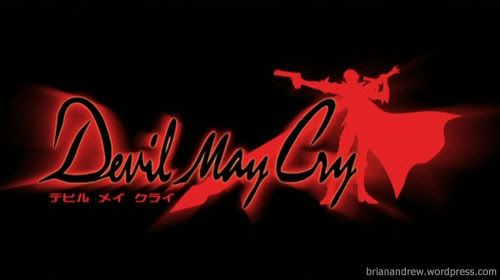 Devil May Cry je anime založené na na stejnojmnené hře. Žánrem by se to dalo zařadit mezi akčkní shounen a sci-fi.
Má 12 epizod, spíš epizodických. Né že by byl DMC bezdějný,to ne. Jen je extrémně jednoduchý, kdo se chce o Dantem a dalších dozvědět víc kde se vzali, co jsou zač a jejich minulost musí bud pořídit hru nebo zabrouzdat na nějaký infa.Anime začíná někdě uprostřed nedávno po tom, co Dante zabil svého bratra-dvojče Vergila a s Lady hned nato vymyslel název svého podniku DEVIL MAY CRY. Neřeší se zde žádné věci z minulosti osob ani jejich osobní problémy, až na jeden detail.
V anime hlavní hrdina Dante vlastní podnik, který nazval Devil May Cry, který se neustále topí v dluzích, aby se nějak vyhrabal pracuje jako zabiják démonů. I když tento podnik zná jen pár zasvěcených lidí, Dante nemá nouzi o práci.
Dante
Polodémon a hlavní hrdina anime. Jeho otec byl Sparda, vysoce postavený démon v Démoním světě. Jeho matka, Eva, byla smrtelník. Měl bratra-dvojče Vergila, kterého však zabil.Dante je chladný, nikoho si jen tak nepouští k tělu. Jediné co miluje a je to jeho fetišismus, jahodový zmrzlinový pohár a Pizza.Vlatní podnik DMC a neustále se topí v dluzích, které vůbec nestačí splácet, protože jakmile něco splatí, hned se hrabe na povrch něco jiného.Jako polodémon má nadpřirozenou sílu. K boji používá bud zbraně se kterými rozstřílí démony na kaši, nebo meč Rebellion, který patřil jeho otci. Matka Eva mu ho dala ještě předtím zemřela.
Patty Lowell
Sirotek, které pomohl Dante z potíží. Danteho si oblíbila, takže ted je u něj nakvartírováná každý den. Jelikož nemá co dělat většinou uklízí, tříská Danteho, aby ji pomohl, nebo ho ohrává o prachy v pockeru. Patty je živá a milá holčička. Má Danteho upřímně ráda, ale nedá to najevo, protože je přeci tvrdáčka, ne?:DNa konci anime se prokoukne, kdo vlastně je a že sirotek vůbec není.Talhe postava se objevuje jen v anime.
Morrisson

Dohazovač klientů a obačasný opravář věcí v kanceláři Danteho, když totiž Danteho popadne vztek tak rozmlátí i to co nutně potřebuje,ale už na to nemá prachy, tak nastupeje Morrisson, který je handy man a všechno spraví.
Trisch
Sexy ženská a bývalá partačka Danteho.Jestli spolu měli něco víc nevím.Je to záhadná, trochu arogatní ale silná démonka.Byla stvořená Mundusem (hlavní démon v démoním světě, největší zlo), jako vzor Danteho matky a tím ho měla nalákat do pasti a zabít.Taktéž používá zbraně, má nadliské schopnosti jako třeba vytváření elektřiny a velkého výboju.
Lady
Nebojácná ženská, která si pro ránu nejde daleko. Je profesionální zabiják démonu. Samotářka, ale občas odběhne za Dantem na nějakou tu výpomoc nebo na výmáhání peněz, které jí dluží. Je normální člověk a k likvidaci démonů používá silné bazooky a pistole. Jedna zajímovost k ní jedno oko má červené a druhé modré.